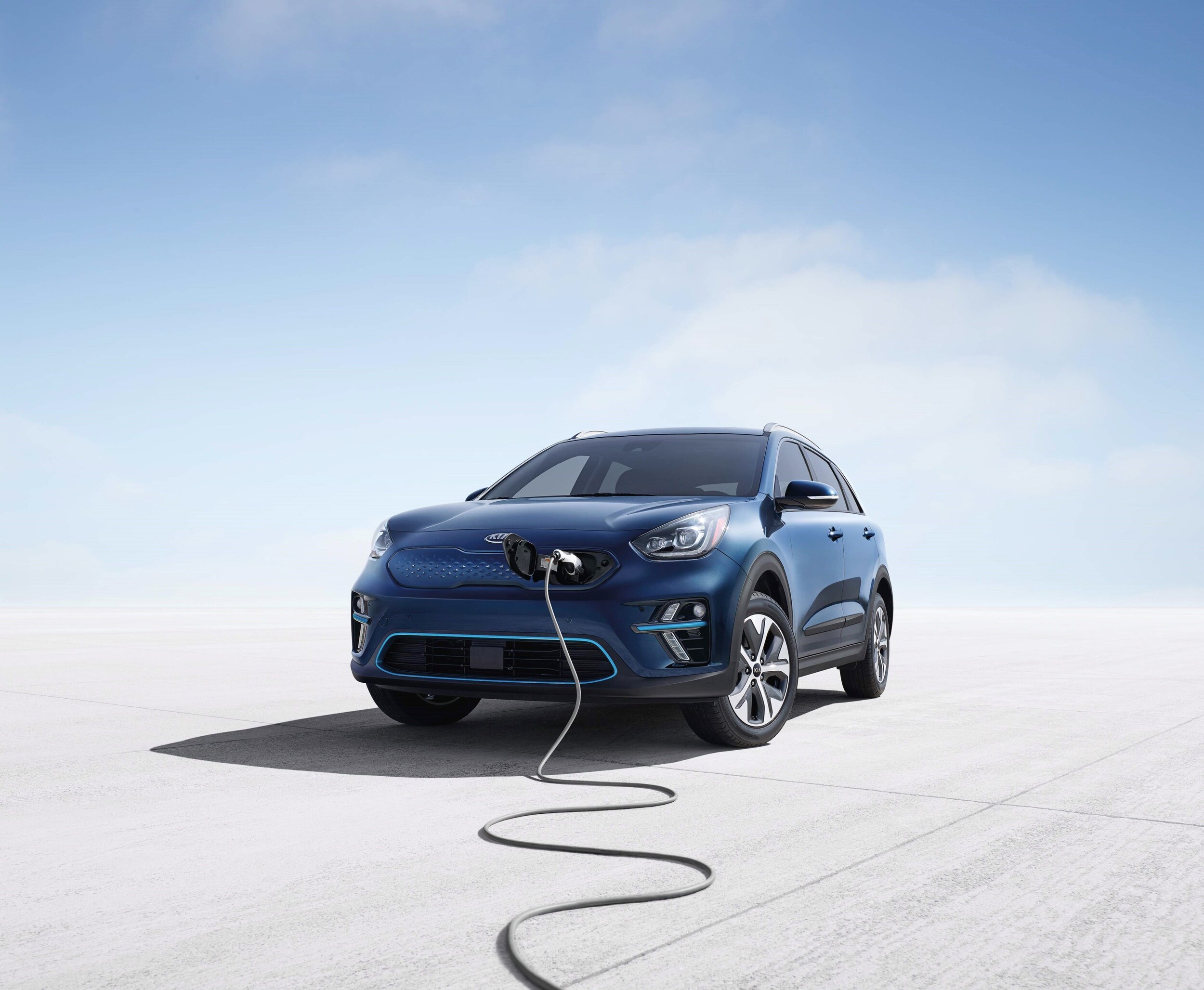 The Niro was a first for the Korean car brand. Never before had Kia created a dedicated crossover hybrid. Well, Kia is making waves again as it gets ready to launch the 2019 Kia Niro EV. This fully-electric vehicle is saying goodbye to the gas station with an all-electric driving range of up to 239 miles.
Before we get into the nitty-gritty of the 2019 Niro EV, we want to tell you about one really cool feature of this crossover: its sound. Some EVs are silent, but not this one. It makes a whirring noise when moving that evokes the feeling of being in a spacecraft from a sci-fi movie. The noise is made by the Pedestrian Warning System to, you know, let pedestrians know a car is coming since silent vehicles can be dangerous.
Now to the essentials. The 2019 Kia Niro EV is powered by a state-of-the-art liquid-cooled 64kWh lithium ion polymer battery that recharges for approximately 100 miles in 30 minutes. If you're wondering, the Niro has a Combined Charging System DC fast-charge and a Level 2 (240v) at 7.2 kWh charger that is at a full charge after approximately 9.5 hours.
The Niro EV's electric motor is rated at 201 horsepower and 291 lb.-ft. of torque.
Now, just because the 2019 Niro EV is electric, that doesn't mean it can't also get up and go. It has four drive modes — Eco, Normal, Sort and Eco+ — that adjust the regenerative braking level, air conditioning and heating settings automatically.
Regenerative braking is one of the coolest features of an electric vehicle. Paddle shifters allow the driver to slow the Niro and capture kinetic energy that returns to the battery, extending the driving range.
Since the 2019 Kia Niro EV has no internal combustion engine to cool it, there's a closed grille. This gives the crossover a cool look along with the "Arrowhead" LED daytime running lights and blue accents.
Inside the Niro EV, there are plenty of storage compartments, a handful of ways to charge and connect devices, 7-inch color touchscreen with rearview monitor and parking guidance and tons of safety features.
We're definitely feeling the 2019 Kia Niro EV and we know you will be too when it arrives!